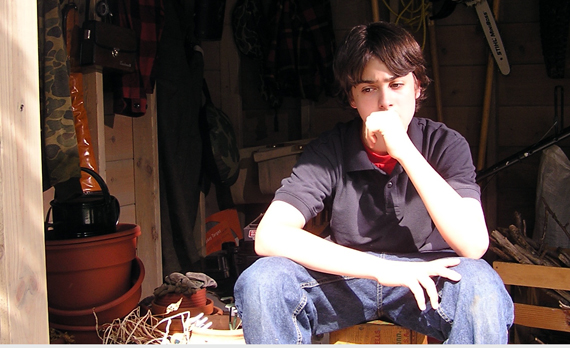 In The Tradition of My Family
2006. 15 minutes. Super 16mm.
Billy wants a better scar than the one his father gave him.

A tradition of violence that goes back generations is threatened when Benjamin hesitates to indoctrinate Billy into the insanity.
THE FILMMAKERS
Directed by
Todd Davis
Based on the story by
Phil LaMarche
Screenplay by
Todd Davis
Produced by
Todd Davis and Cody Baker
Edited by
Michael Berenbaum, A.C.E.
Director of Photography
Austin de Besche
Production Designer
Jenny McCracken
Costume Designer
Rosa J. Colón
Makeup Effects
Jeremy Oneail
Music Composed by
David Grimes
Casting by
Angela Peri
Key Hair and Makeup
Patricia Smart
Executive Producer
Patty DavisTHE CAST
Billy
Paul Kmiec
Benjamin
Jim Loutzenhiser
The Mother
Rachel Harker
Billy at 21
Jason Ferriter
Uncle Aldus
Mick Hoegen
Aunt Elize
Kippy Goldfarb
The Grandfather
Chuck Brinig
Aunt Tina
Joanna Herrington
Uncle Jess
Chris Conte
Cousin Eldridge
KC Christian
Cousin Jeremy
John Rebello
Cousin Kate
Stephanie Simonoff
Cousin Charles
Richard Rogers
Cousin Martha
Alexia Rogers


"...riveting..." Palm Springs International Festival of
Short Films program"...the same gritty feel as the recent 13 (Tzameti)
and hits just as hard with its depiction of a
gruesome family tradition that must be
seen to be believed."ReelReviewer.com
(New York Film Festival review on Rotten Tomatoes)"...This was the most professional looking film
I saw at the [Rome International] Film Festival...
Keep your eye out for [Todd Davis]; he is
going to be big one day.
Score: A"
Adam Martin, Rome Unscene
"A terrific adaptation of the short story, and an excellent use of its cast's talents."
Scott Johnston, Philadelphia Film Society
"'In The Tradition of My Family' is very well made-- and quite disturbing. Todd demonstrates his individuality as a filmmaker not only in the manner in which he creates the film, but in the decision to film this story in the first place. I applaud him for both... I would love to see [his other films]."
Arthur Allan Seidelman, director,
"The Sisters""A gem of a short film, 'In The Tradition of My Family' tells its story, in the tradition of Shirley Jackson's 'The Lottery,' of the rite of male passage in an extended New England family. The clean, crisp acting, lighting and editing, and taut direction communicate a surprisingly deep and rich insight into male psychology. This film explores the warrior spirit beneath the surface of domestic order to suggest a vast labyrinth of unspoken higher truths. This little film will haunt its viewers, its vivid and striking images lingering long after the final blows have fallen."
Les Wright, CultureVulture.net
"The film is really extraordinary... It has a very rich parable... a simple story that can be read in many different ways. Although the narrative is clear, it hints at all types of mysterious meanings."

Charles Merzbacher, former chairman, Department of Film and Television, Boston University
"[Davis] effectively portrayed the tension that family members feel about this tradition. Cult like, it felt eerie and scary... What I enjoyed about the film was that I was bewildered, shocked, scared and fascinated all at the same time... effective storytelling, shots... full attention to details. The color tone - earthy and rustic. Acting was subtle but real. Remember the name, Todd H Davis, he has showed us what he can do. I got mesmerized by his work. I look forward to his first feature film. Why should you watch this short film? This film is a winner, effective storytelling par excellence!"
Luis Pedron, FanClubX.com

"...perversely intriguing..."
Greg White, BU Source

(synopsis above written by David Walker, Creative Director, Longbaugh Film Festival)
(photograph above by Christopher Plummer. ©2006 orLater Productions. All rights reserved.)